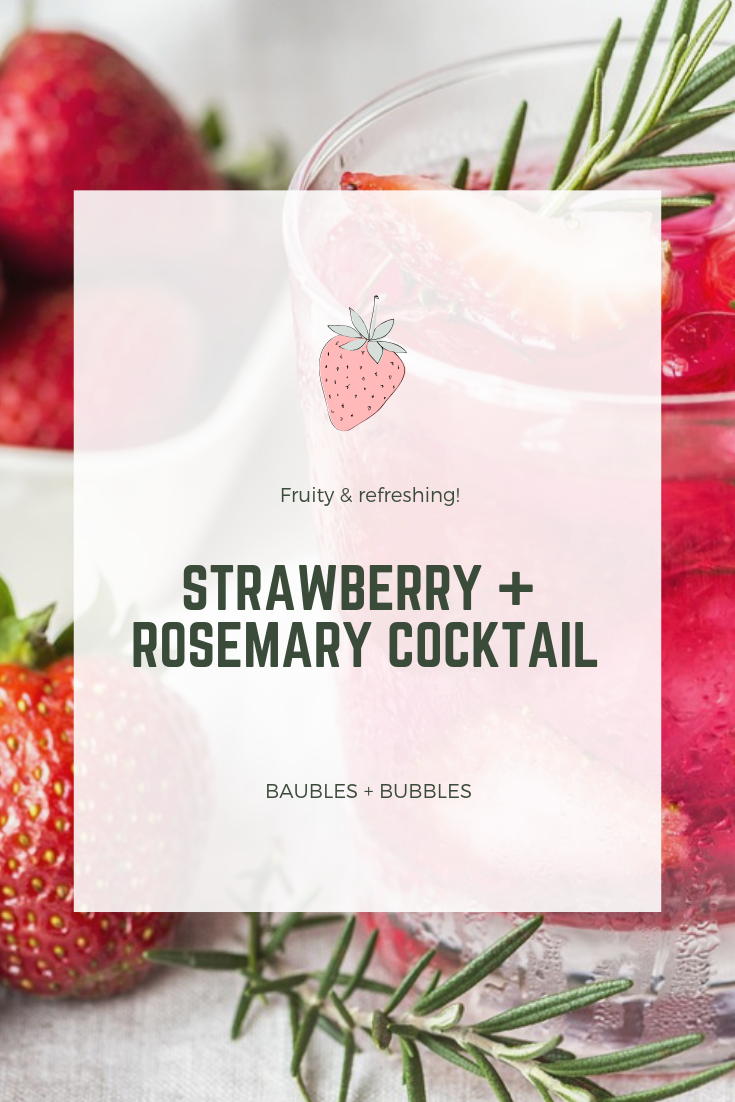 Bubbles . Uncategorized
Strawberry + Rosemary Cocktail
On January 17, 2019 by baublesbubbles
If you love fruity drinks (and/or are wishing for summer) this is the perfect cocktail for you! Strawberries, rosemary simple syrup and vodka! Yum.
Strawberry + Rosemary Cocktail Recipe
Rosemary Simple Syrup
1 cup Water
1 cup Sugar
2 sprigs Fresh Rosemary
Cocktail Ingredients
4 Fresh Strawberries
6 ounces Vodka (Tito's is my favorite – it's GLUTEN FREE!)
3 ounces Rosemary Simple Syrup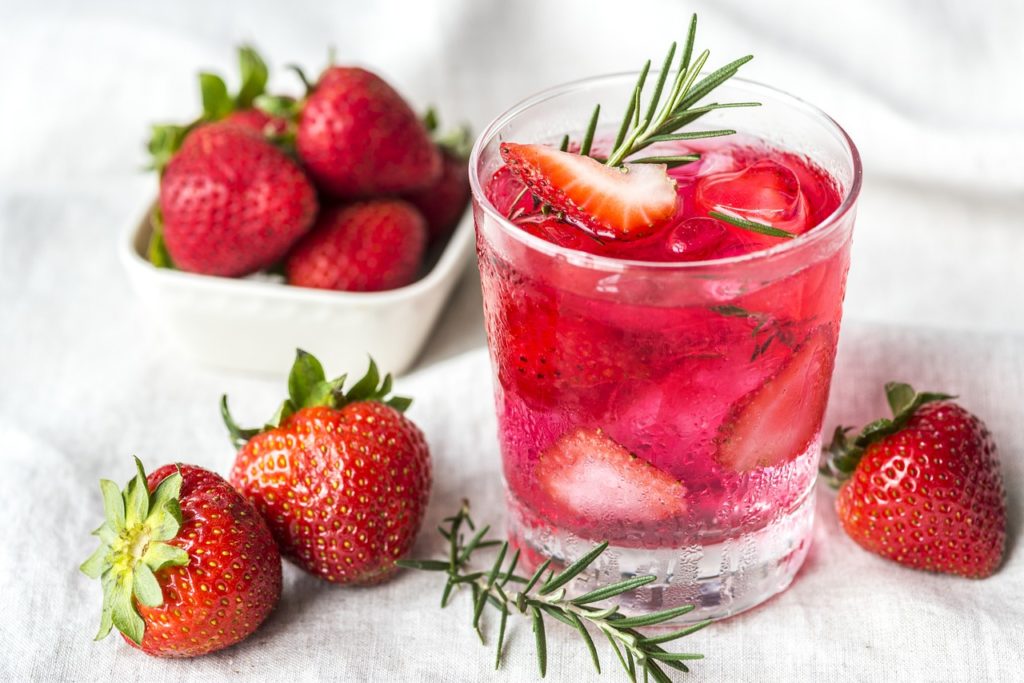 Directions
Make Rosemary Simple Syrup: In a small saucepan heat
water and sugar at medium temperature. Stir well. Water and sugar will combine and thicken. Turn off heat and stir in rosemary. Let cool for about an hour then remove rosemary and place simple syrup in a seal-able container for storage in your refrigerator.
Mix Strawberry + Rosemary Cocktail: Add strawberries and vodka to shaker or mixing glass. Muddle until the strawberry juices have infused the alcohol. Strain with a fine strainer. Fill to glasses with ice. Pour equal parts of the strawberry vodka in each glass. Add 1 jigger (1.5 oz) of the Rosemary Simple Syrup in each glass. Stir to combine.
Optional – Top with bubbles (champagne), because everything is better with BUBBLES! 🍾
Cheers. Enjoy!
Xo, Madi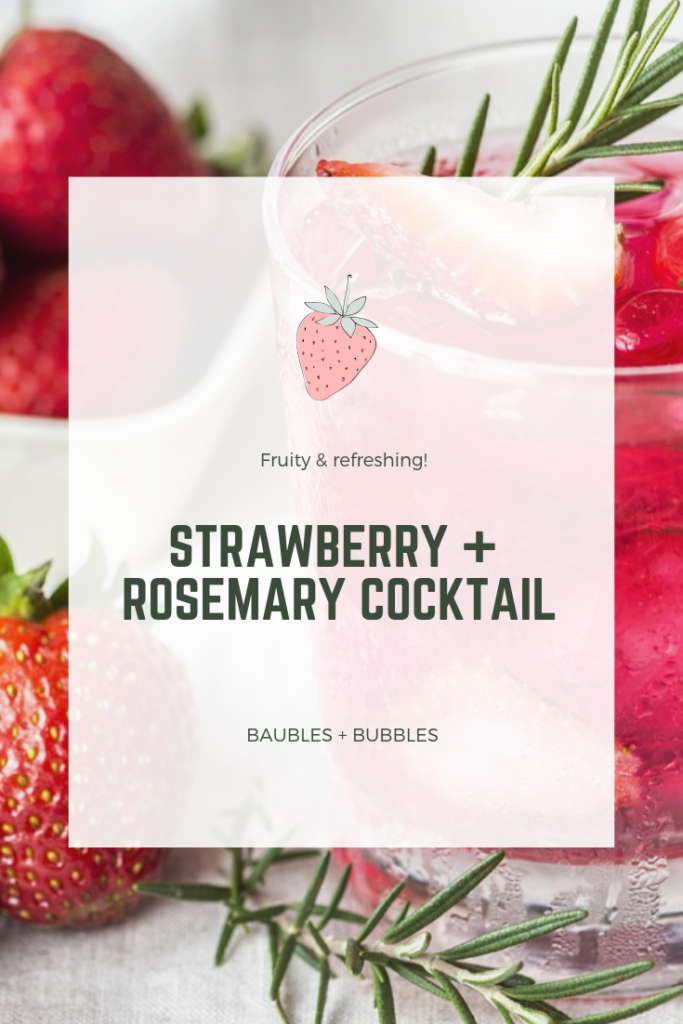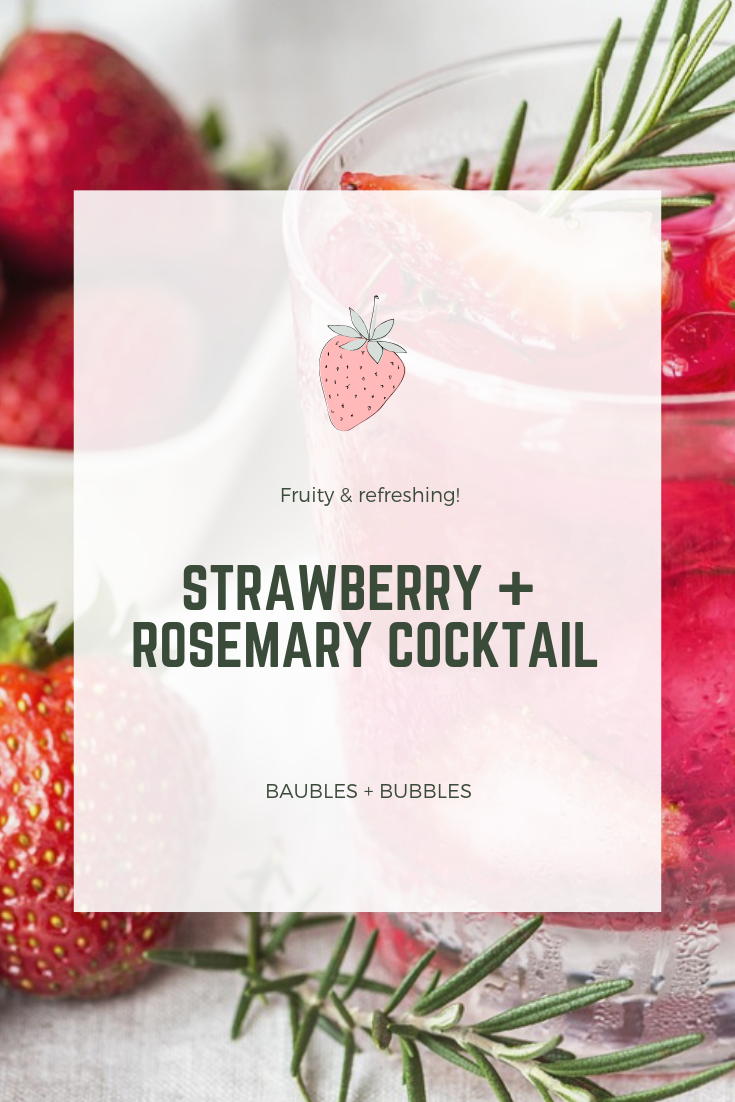 Strawberry + Rosemary Cocktail

15 mins
Serves 4
Ingredients:
1 cup Water,
1 cup Sugar,
2 sprigs Fresh Rosemary,
4 Fresh Strawberries
6 ounces Vodka
3 ounces Rosemary Simple Syrup
Rated
3.5
/5
based on
11
customer reviews
2 comments
Archives
Calendar
November 2023
S
M
T
W
T
F
S
1
2
3
4
5
6
7
8
9
10
11
12
13
14
15
16
17
18
19
20
21
22
23
24
25
26
27
28
29
30