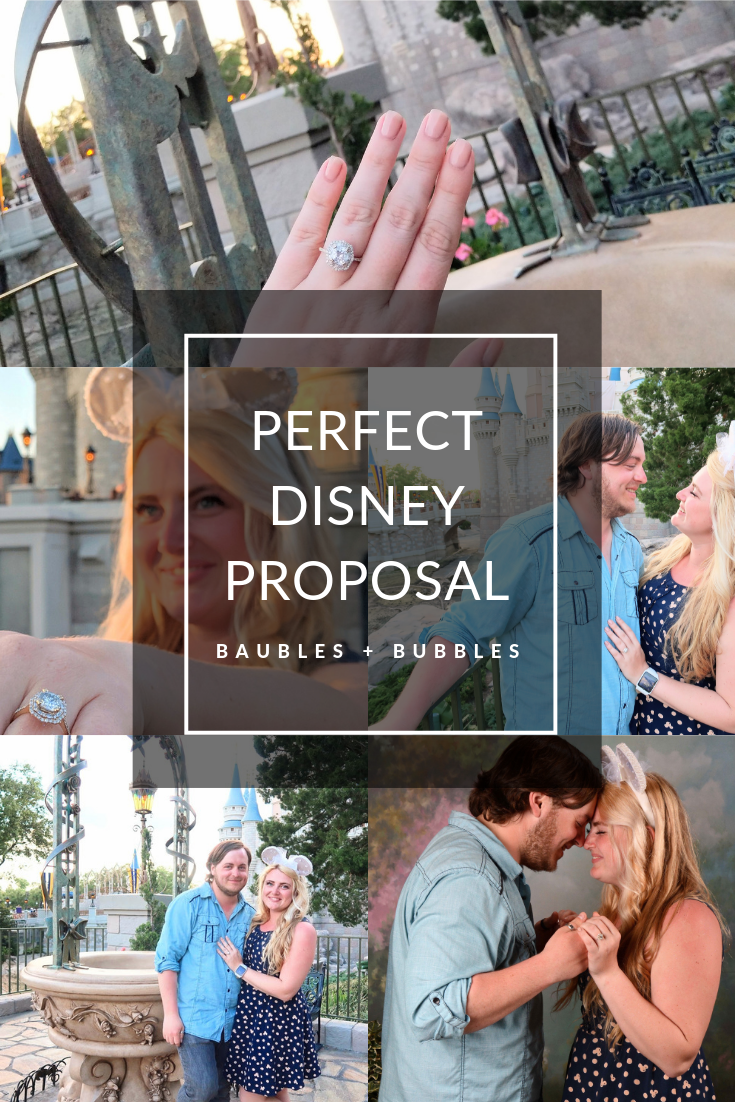 Baubles . Bridal . Disney . Lifestyle
Our Disney Proposal
On July 2, 2019 by baublesbubbles
The Perfect Walt Disney World Engagement. ❤️️
"Ready to begin, let the wonder take hold
Feel it draw you in, watch the moment unfold
Spark a dream that we're meant to follow
Setting off for a new tomorrow
Every step we take, brings a new hope, a new day
Every choice we make helps us find our own way
Every wish that we pull into motion
Diving in with our hearts wide open
The story comes alive, when we look inside
A new adventure there in your life
There in your eyes
It's just beginning
Feel your heart beat faster
Reach out and find your happily ever after
Find your happily ever after" ✨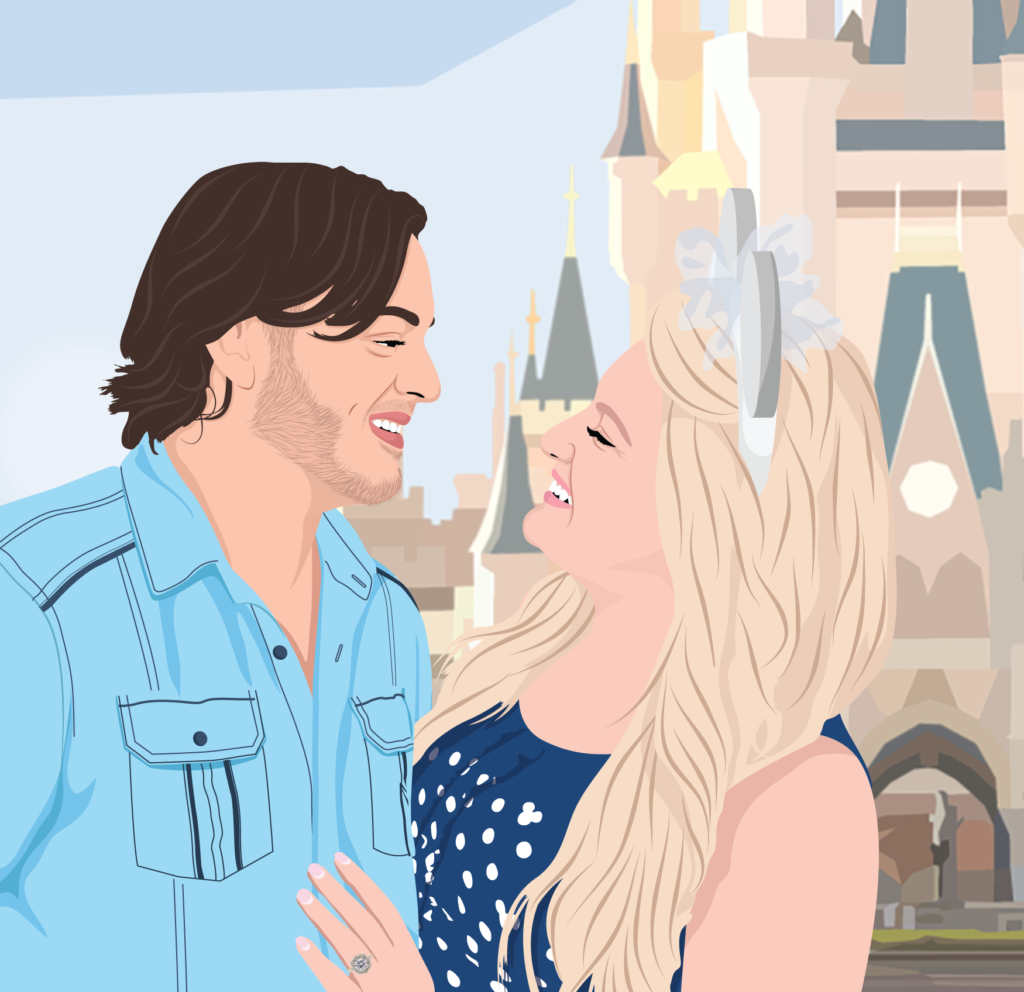 I'm so excited to announce our engagement! And tell you all about it!
My fiance and I have been together since 2011. We've been through a lot! Every day a new adventure, some more challenging than others. I've known for several years that he's my forever person. A few months ago I noticed that our playful marriage conversations suddenly got serious.
In March, we had a trip home to Florida planned. As the trip got closer, he got sweeter (and more anxious). I knew something was up! We visited family and friends in St. Augustine as planned, nothing. We went to all of our favorite places around town. We worked on our favorite charity event. We had an incredible week!
The day before we had to head back to North Carolina, we went to my favorite place – Walt Disney World! I had a gut feeling it was going to be a special day. ❤️️
We planned to do multiple parks, so we parked at the Transportation Center. We took the monorail over to start the day at the Flower & Garden Festival at EPCOT. We went on our favorite rides. We ate and drank around the world. In every country he would say, "Hey, this is pretty, let's stop and take a picture." 😎 Toying. With. Me.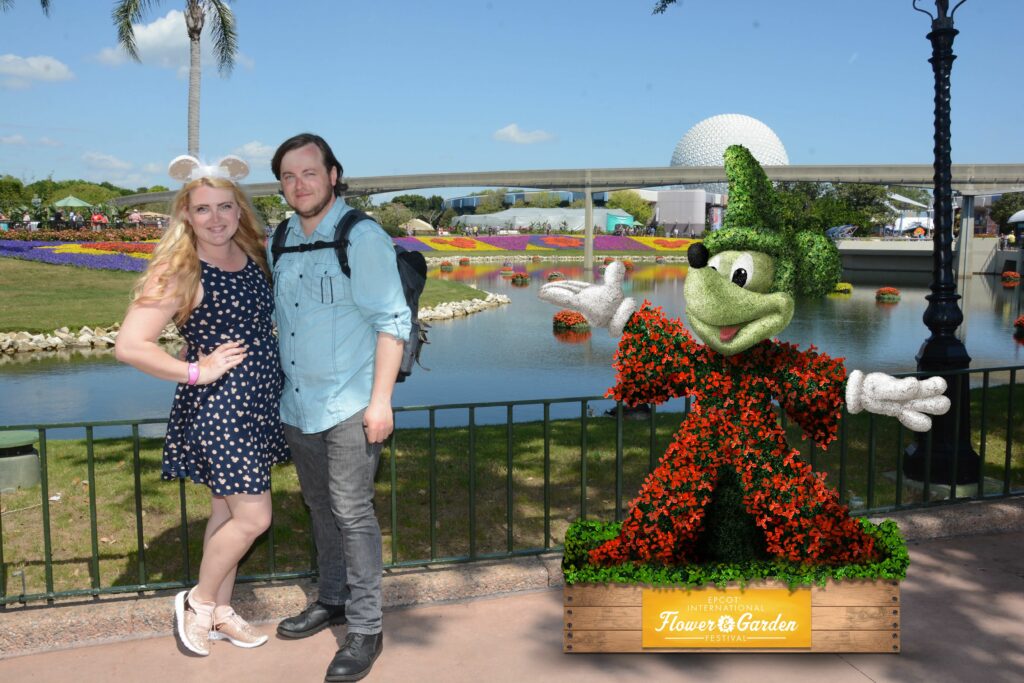 While finishing up our favorite festival foods, we managed to score FastPasses for ALL the thrill rides at Disney's Hollywood Studios. We took the boat from the World Showcase to Hollywood Studios. It was so nice to be seated together in the shade!! As we walked in to Hollywood Studios, I heard my name.
One of our favorite people on the planet was working Character Palooza!! What a treat! We got to see her and meet rare characters, completely unplanned. After Character Palooza, he went on all the thrill rides! After riding all the thrill rides in about 45 minutes, we were ready for the main event – Magic Kingdom! 🏰 On the bus, I got FastPasses to meet the princesses at Fairytale Hall.
As we got the the entrance, he mentioned that he wanted to go get something to drink. I met friends, Mommy of a Princess, who were also in the park to visit the princesses. When we finished with the princesses, I got a text to meet him at the Starlight Cafe.
He knew that I would take the side path by the castle to get there. As we went down the pathway, I noticed there were not many people. As we got closer I could see him standing there. Everything turned to slow motion as I turned around to find one friend taking photos and one taking video. I knew this was happening.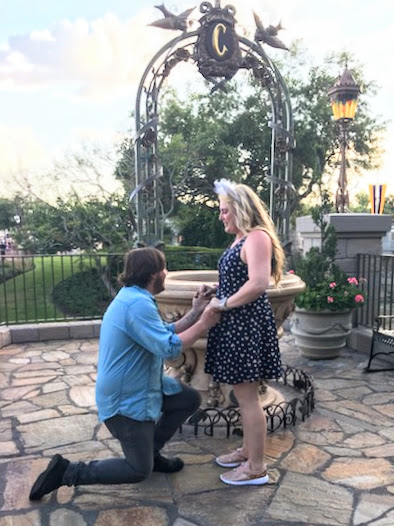 He was sweet. We were both so excited that we were shaking! I couldn't have been happier to say YES to my best friend in my favorite place! Neither of us were sure what we said until we watched the video. We are forever thankful for our friends Kayla & Kat for capturing this special moment for us.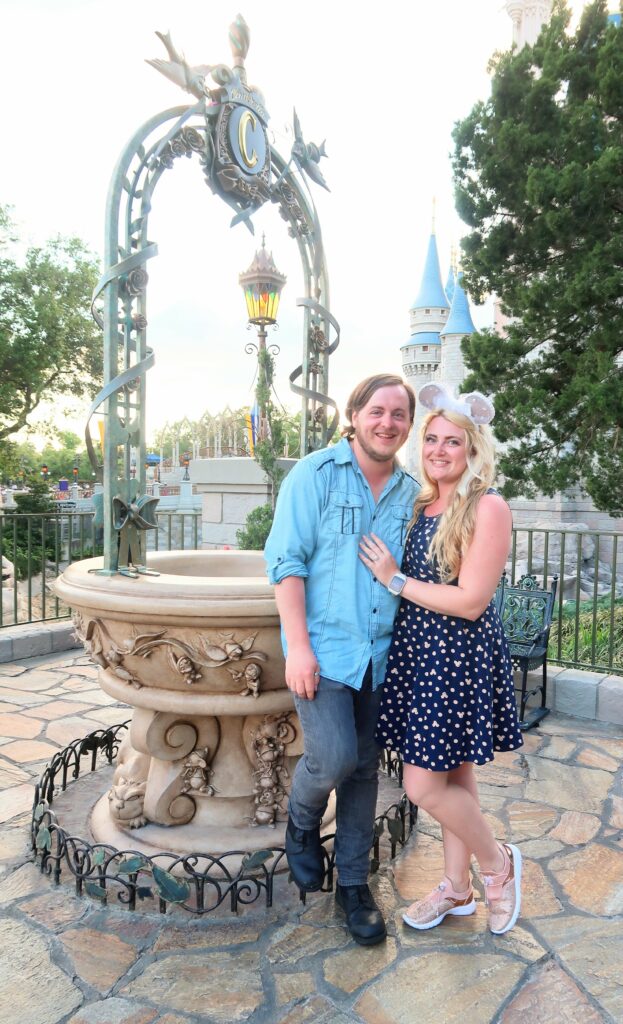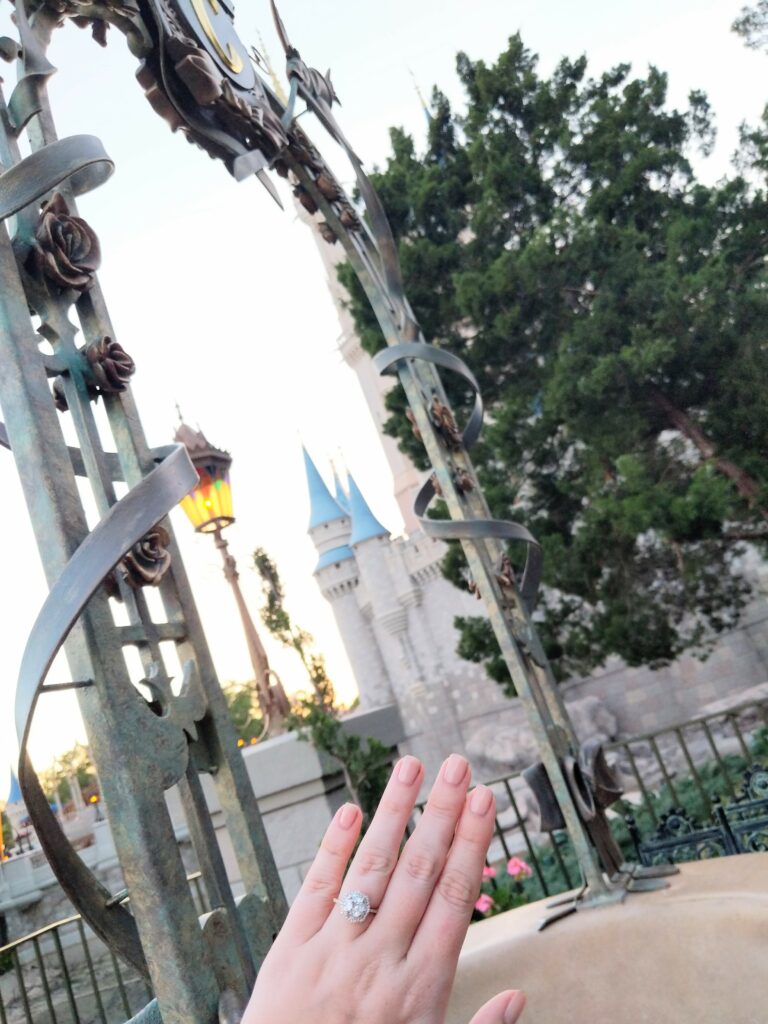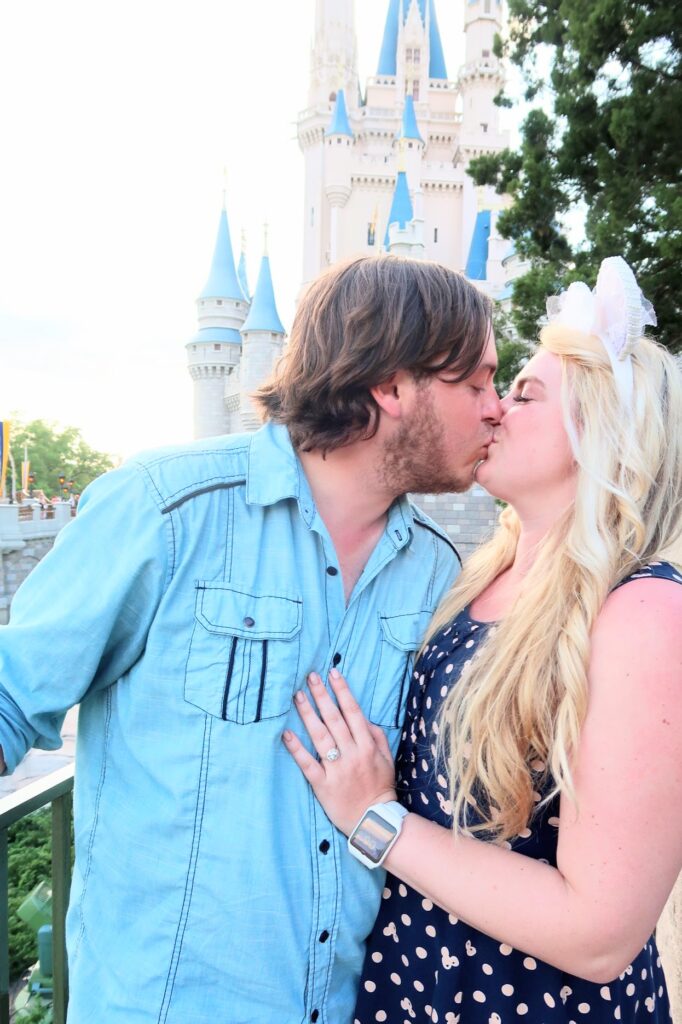 Almost immediately after the perfect proposal, we went to the Bibbidi Bobbidi Boutique Photo Studio – Magic Kingdom. As Passholders with PhotoPass, using the Photo Studios is one of our favorite perks! The Cast Members at Photo Studio were so sweet and excited for us! We took lots of pictures and got our cute Happily Ever After buttons!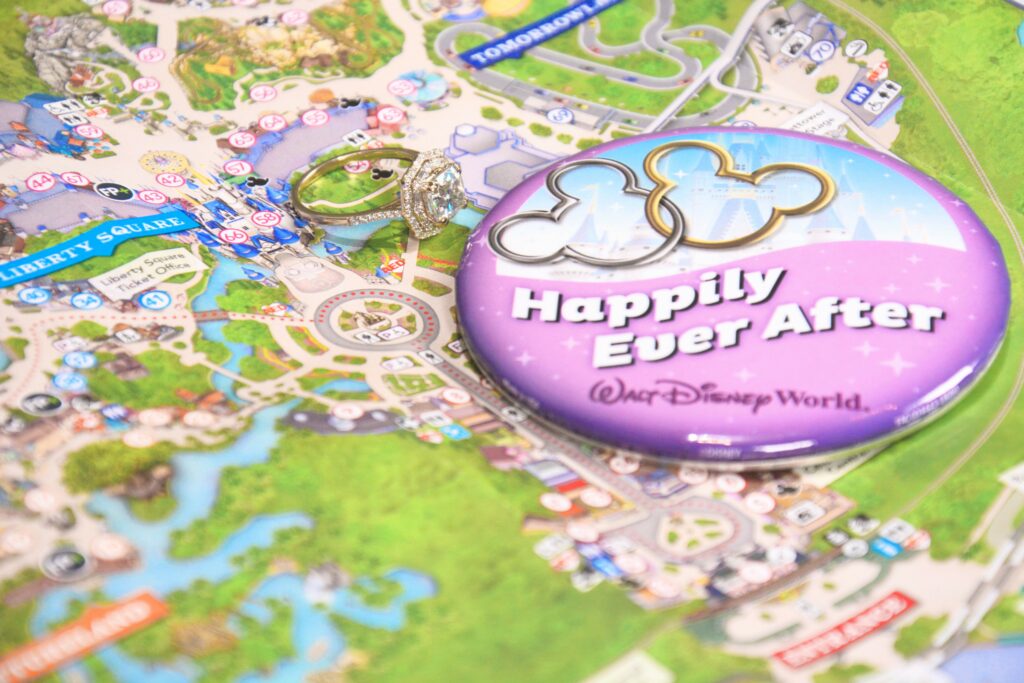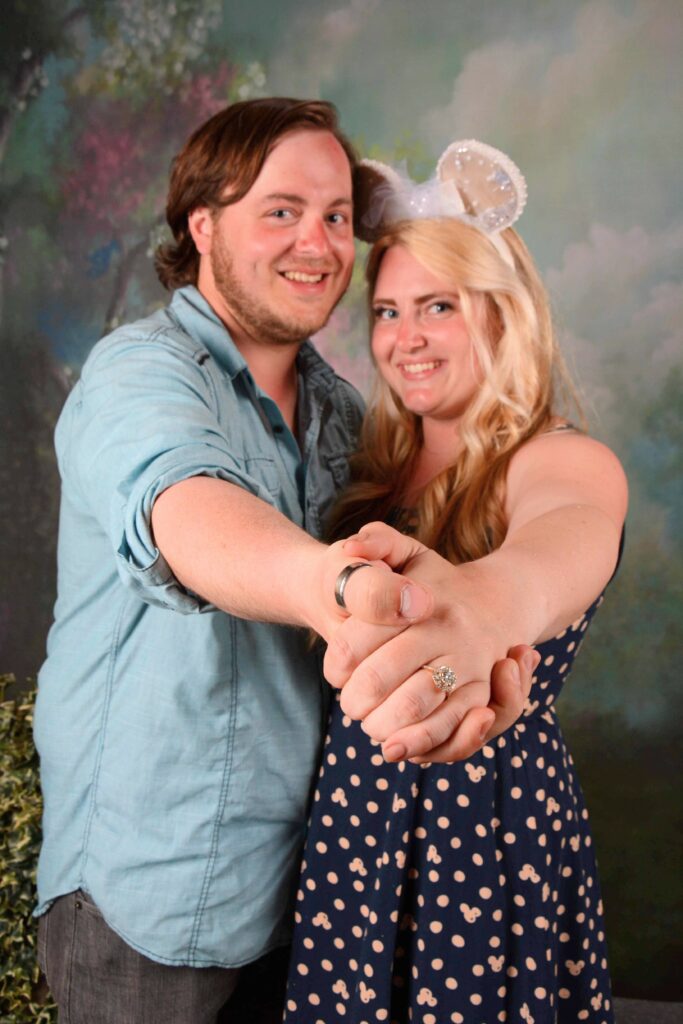 When we finished taking photos at the studio, we headed to the front of the castle to take a few more photos! It was golden hour so the lighting was truly magical. ☀️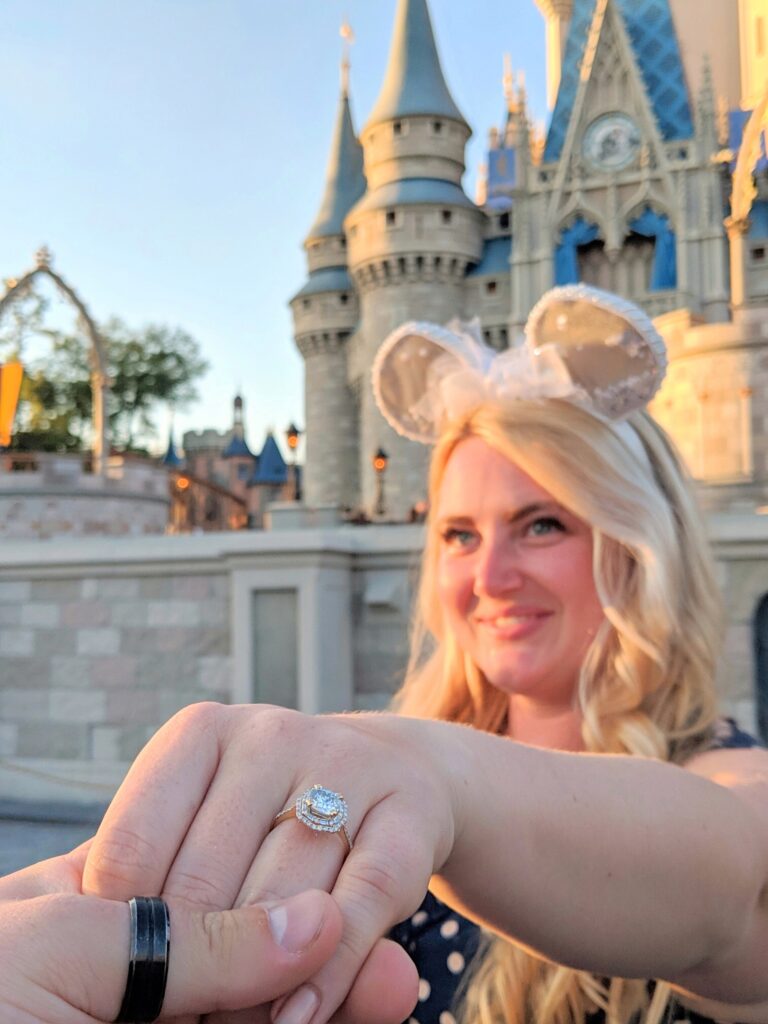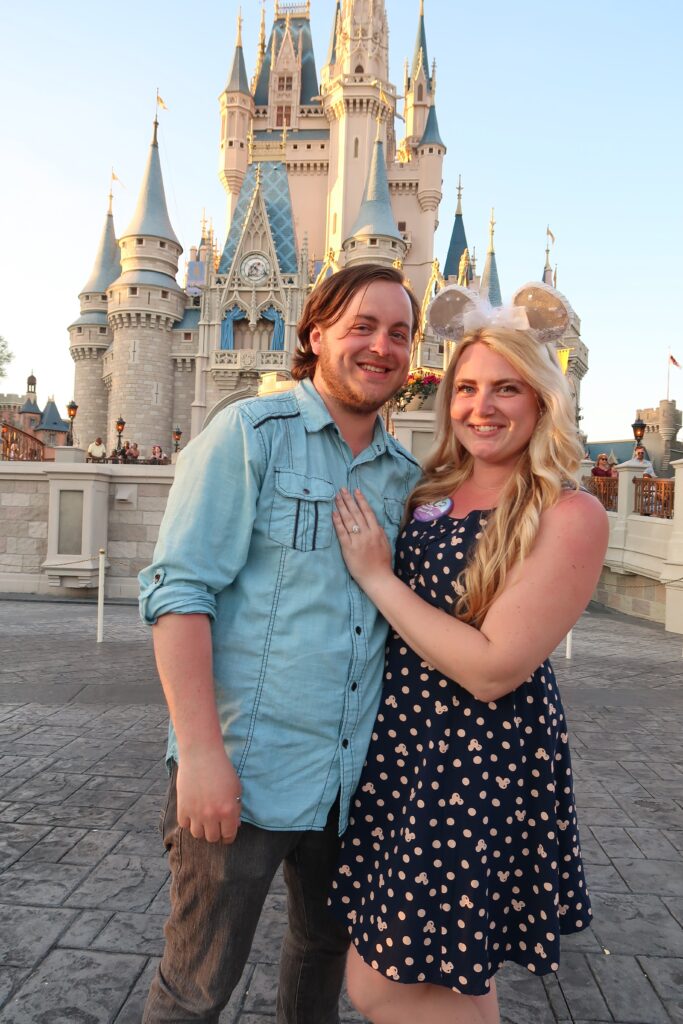 As you can probably tell from the photos, we were sunburnt and sweaty! I always bring an evening outfit when doing a full park day. I changed into that and we took even more photos!!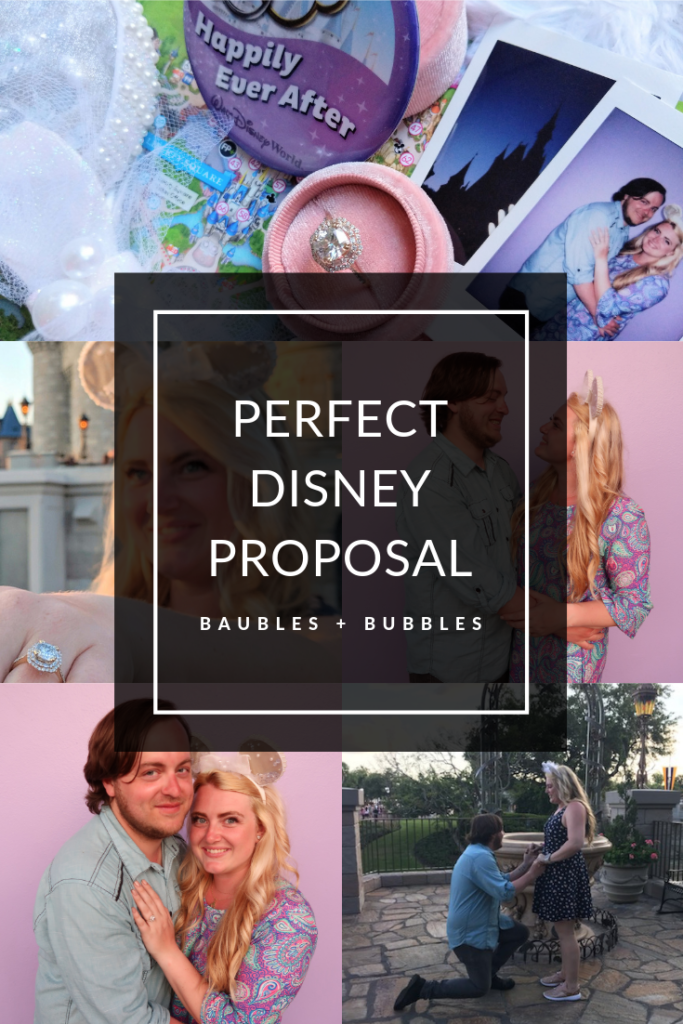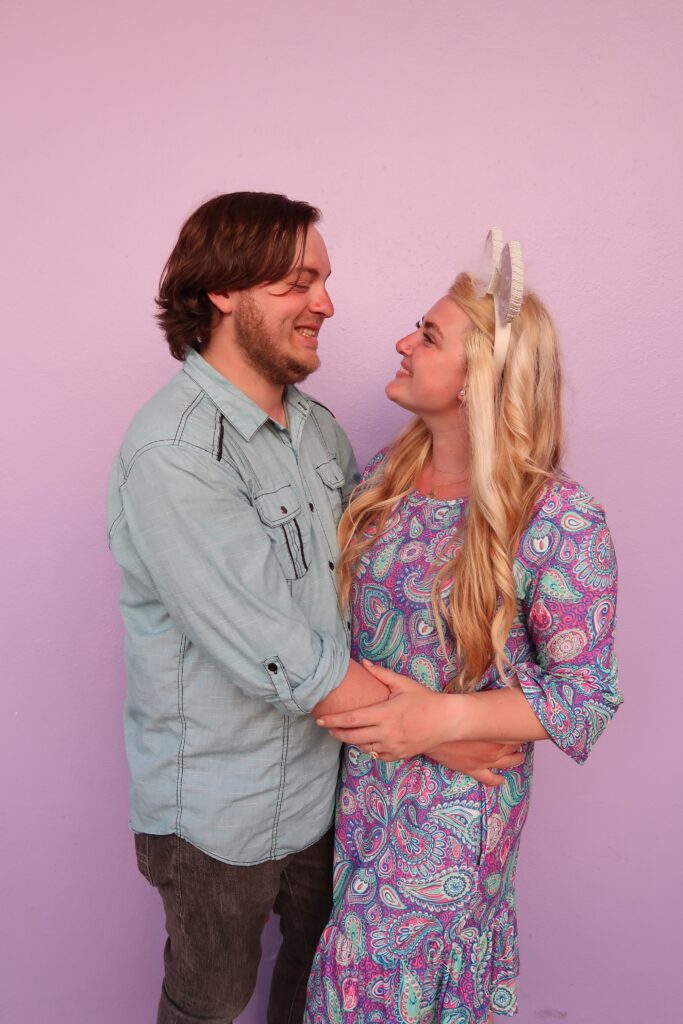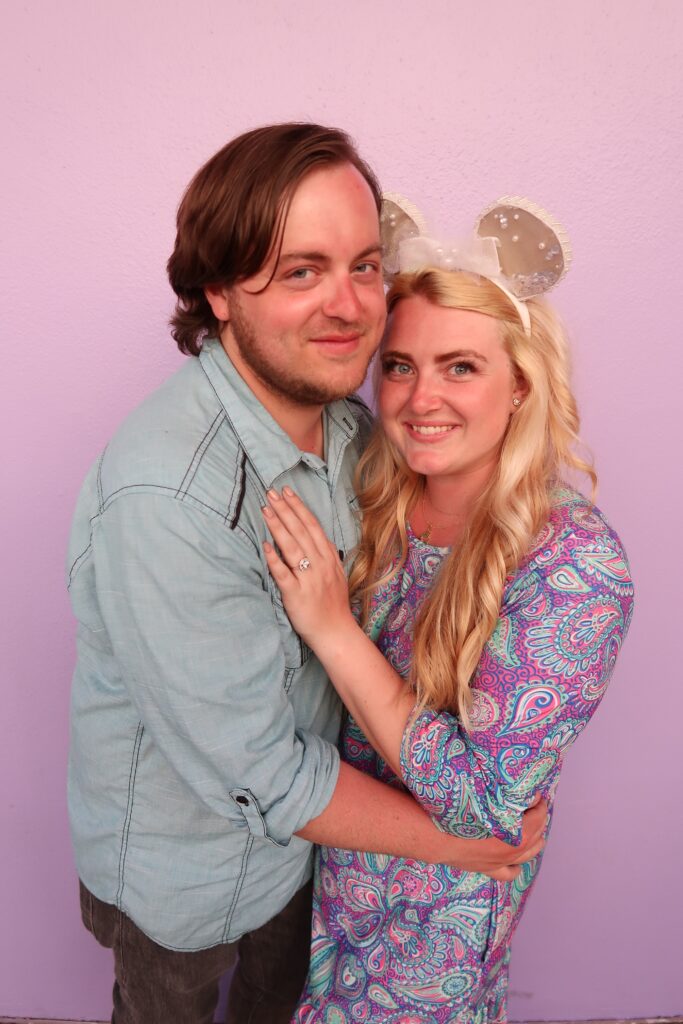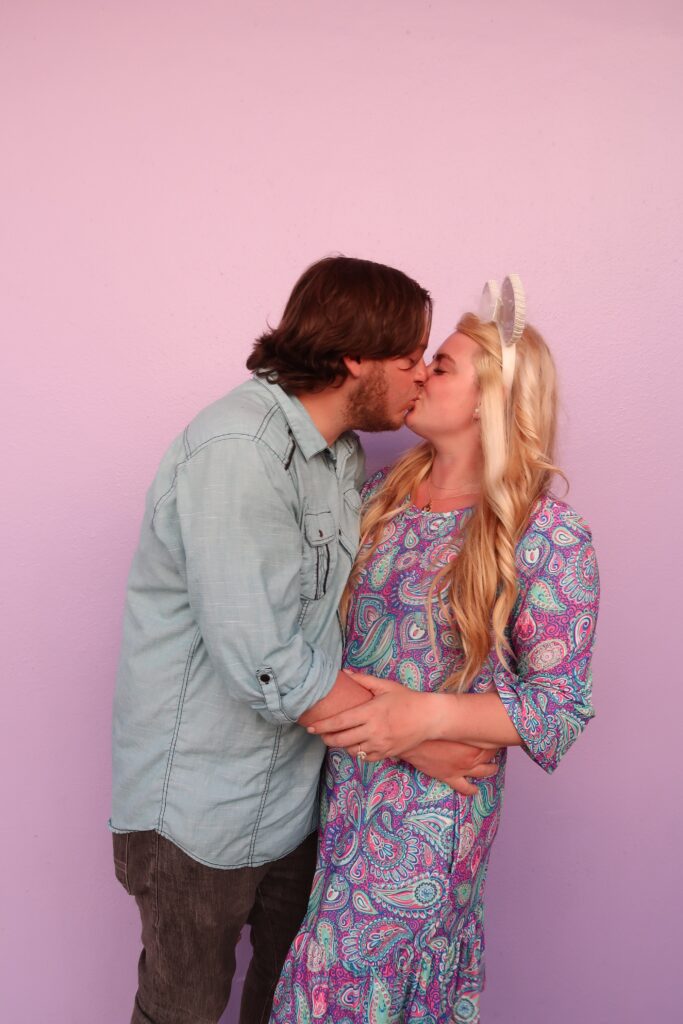 My absolute favorite Magic Kingdom activities are the Dumbo ride after dark and fireworks!! Enjoying both in pure bliss with my fiance will forever be some of my favorite Disney Magic memories.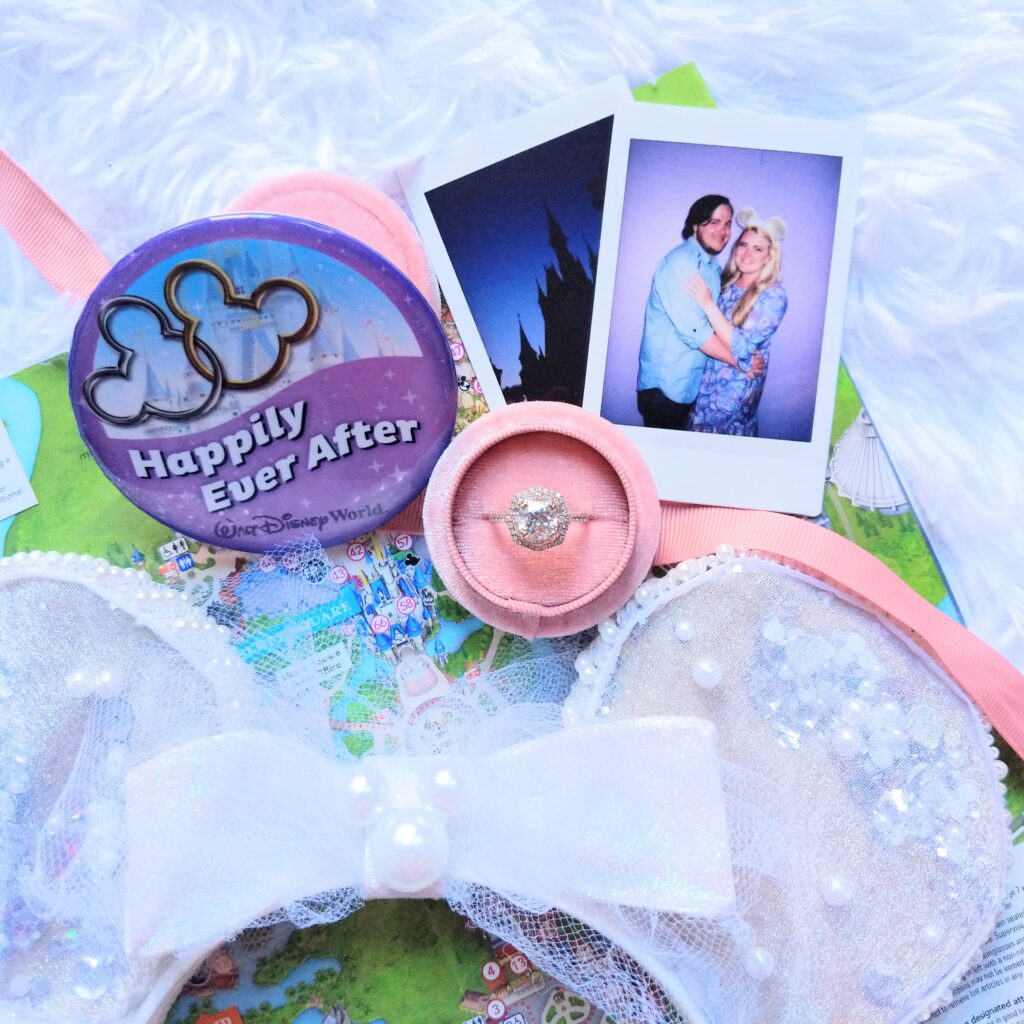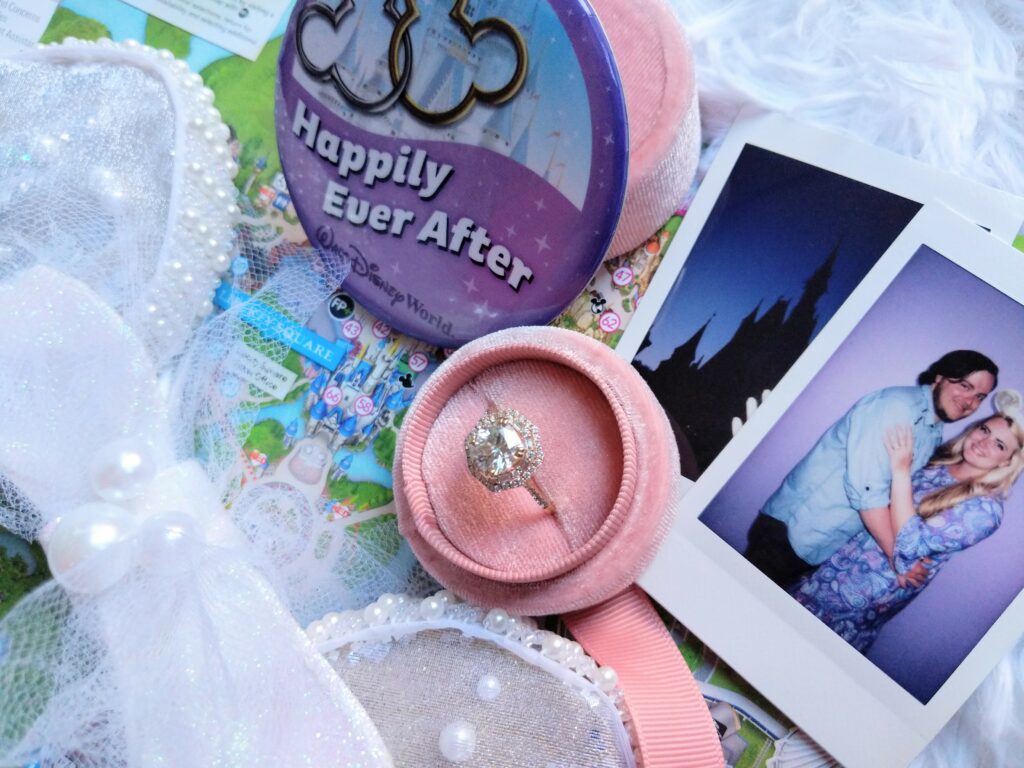 We're getting back to normal life now, for the first several weeks I couldn't stop staring at it! I love my ring almost as much as I love him!
Cheers to a lifetime of love + adventure!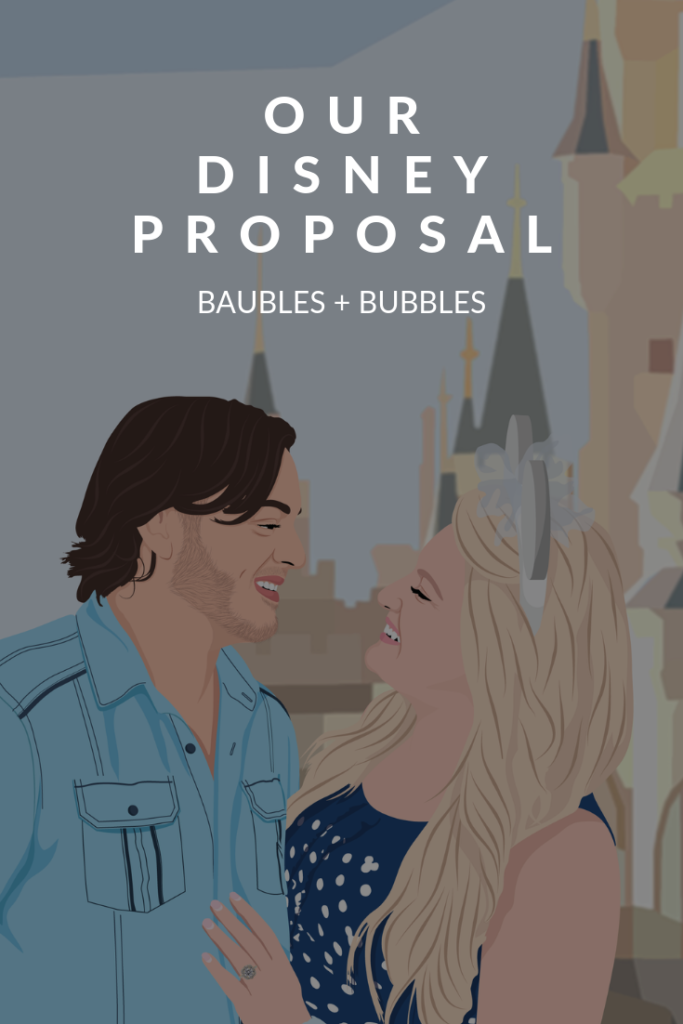 Proposal Dress – LC Lauren Conrad Disney
Mickey Ears – DIY (More information HERE)
Shoes – Monogram Rose Swift Sneakers from I Love Jewelry
Evening Dress – Simply Southern
Xo
1 comment
Archives
Calendar
November 2023
S
M
T
W
T
F
S
1
2
3
4
5
6
7
8
9
10
11
12
13
14
15
16
17
18
19
20
21
22
23
24
25
26
27
28
29
30