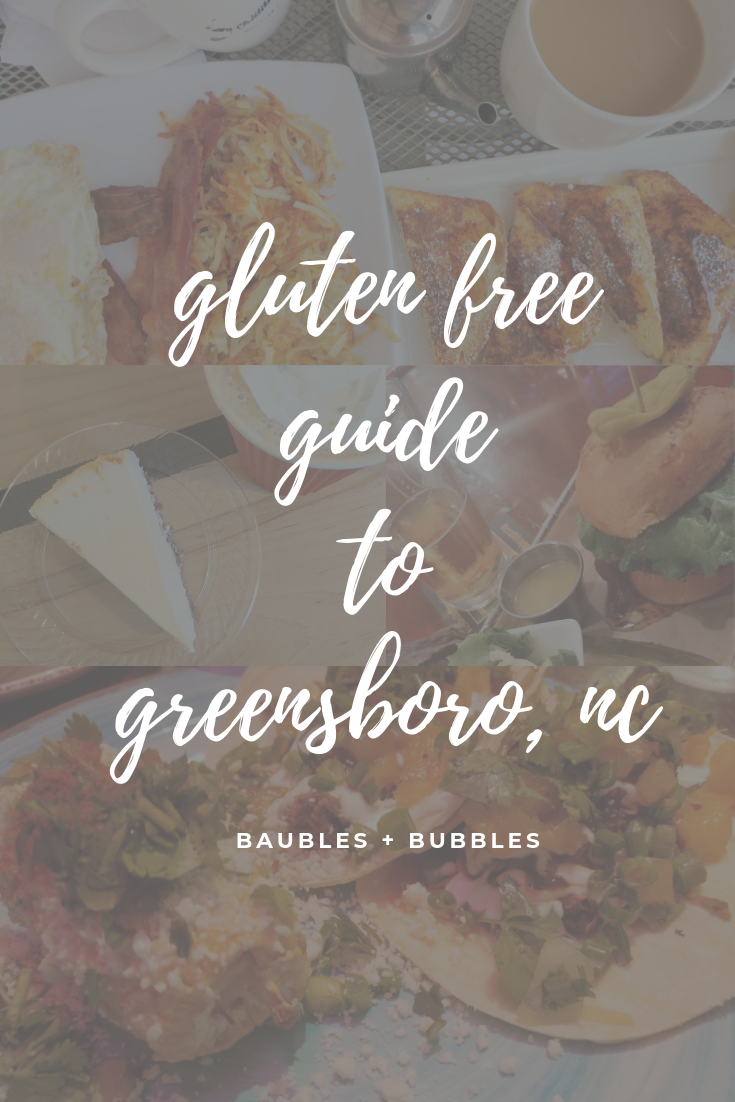 Gluten Free . Lifestyle . Uncategorized
Gluten Free Guide to Greensboro
On July 18, 2019 by baublesbubbles
Find the best gluten free (celiac friendly) dining in the Gate City – Greensboro, North Carolina.
When we moved from Florida to Greensboro I was worried about finding gluten free friendly food options. To my surprise, there are seemingly endless GF restaurant experiences in the area.
Here are my current favorites.
Crafted Art of Tacos – Gluten free corn chips + tortillas. Allergy safe fryer. EVERYTHING is delicious. Staff is knowledgeable. I could eat here daily.
Hops Burger Bar – Gluten free buns! Ciders! Try the Spicy Goat. It will change the way you eat burgers. So good!
Scrambled Southern Diner – Best brunch in town. Gluten free french toast.
Lucky 32 Southern Kitchen – Very gluten free friendly! I crave their Roasted Chicken Salad. Goat cheese, pear, spiced pecans. Mmmm.
Cheesecakes by Alex – Gluten free cheesecake. Pecan crust.
Natty Green's Brewpub – Gluten free fish and chips. Such a treat!
Lindley Park Filling Station – Yummy brunch. Gluten free french toast!
Boba House – Vegetarian Restaurant. Most items can be made gluten free.
Crafted Art of Street Food – Most items can be made gluten free. Yum!
Brixx Pizza – Gluten free pizza, made on a tin pan to keep your pie safe! I'm not typically a pineapple on pizza kind of person, but that Hawaiian with the prosciutto is so delicious.
Sticks & Stones – Pizza joint with locally sourced ingredients.
What is your favorite restaurant in the Triad? Is it gluten free friendly?
Xo, Madi
Archives
Calendar
November 2023
S
M
T
W
T
F
S
1
2
3
4
5
6
7
8
9
10
11
12
13
14
15
16
17
18
19
20
21
22
23
24
25
26
27
28
29
30