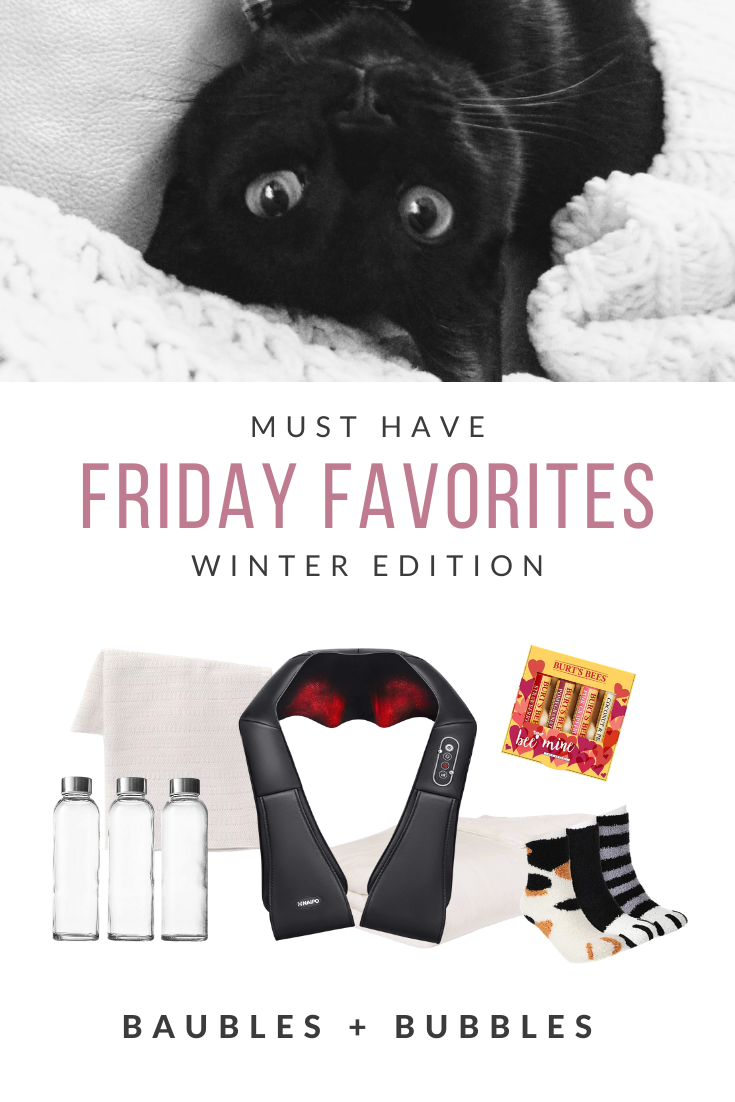 Friday Favorites . Lifestyle
Friday Favorites: Winter Edition
On February 12, 2021 by baublesbubbles
This winter feels especially brutal. It's been cold and wet here in North Carolina. We've been stuck inside our homes for far too long. My current favorites are all things cozy.
Blankets, Fuzzy Socks, Heated Massager, & MORE
Disclosure: Some of the links below are affiliate links, meaning, at no additional cost to you, I will earn a commission if you click through and make a purchase.
Staying warm, cozy and healthy is my top priority this winter.
My favorite way to stay warm is snuggling up with a blanket, cozy socks and our sweet cats.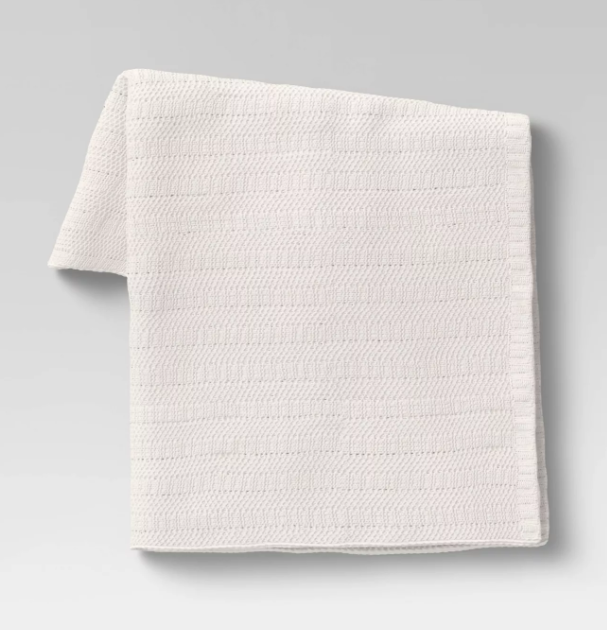 We first got this blanket as a gift from my sweet friend, Mommy of a Princess. It has become the family favorite. My husband, cats and I are all obsessed with the Chenille Knit Throw Blanket. We love the material, size and weight of this throw. It's the perfect "cuddle up on the couch" blanket. I recently purchased two more while the blanket was on sale. We are so excited to all have our own. I don't think we could survive the winter without it. The cream color is beautiful and washes well.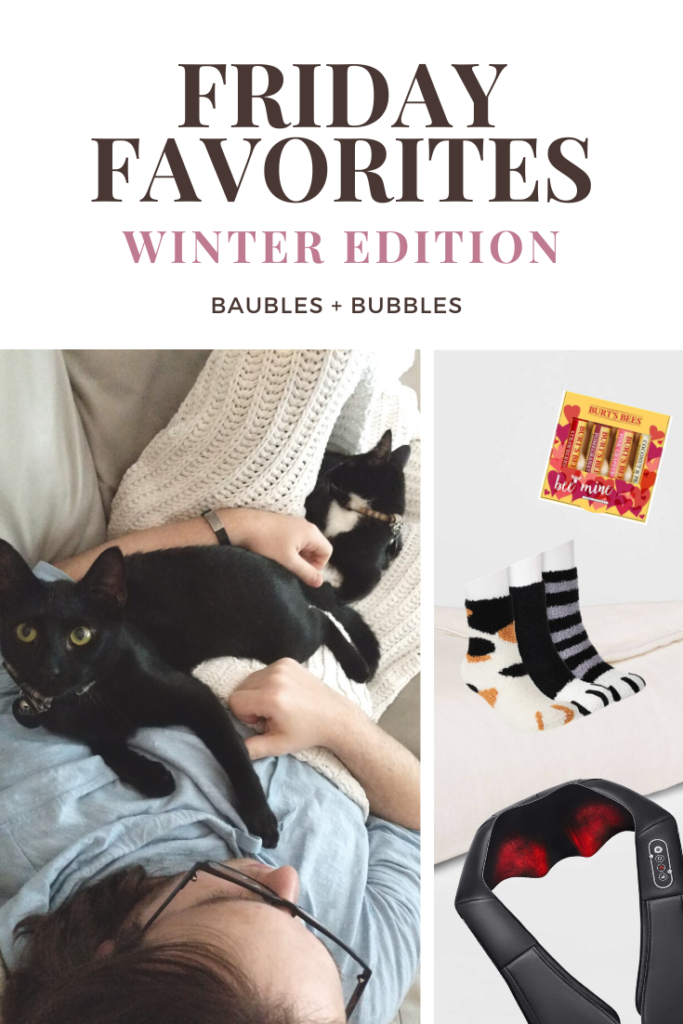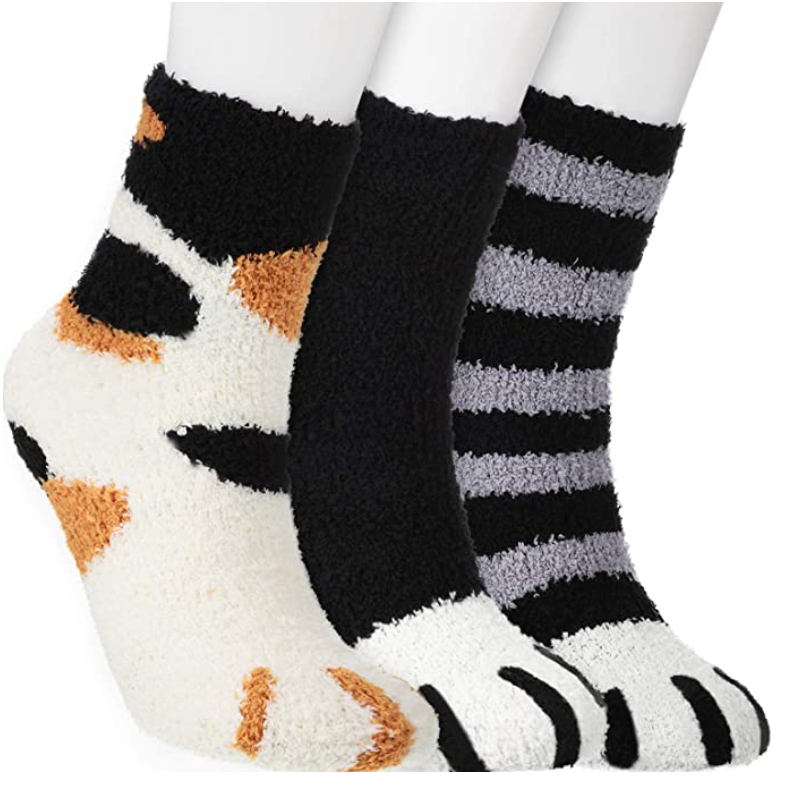 Winter is fuzzy sock season for me. I feel the most cozy when I have on warm socks. I love these Cat Themed Cozy Slipper Socks. The black and one set allows me to match Ruby, our sweet tuxedo cat.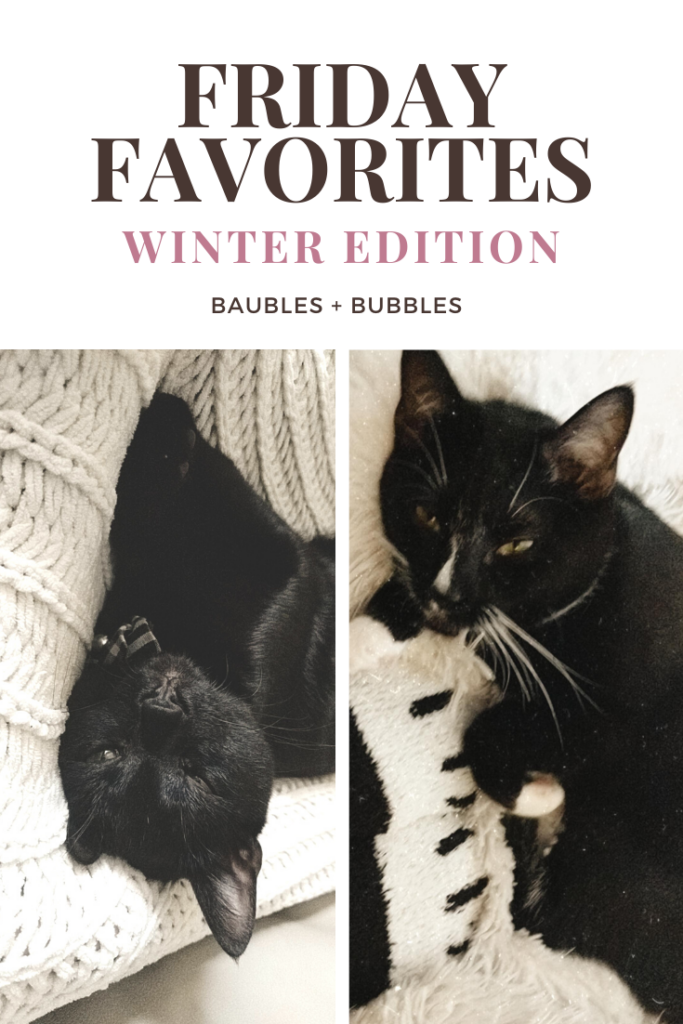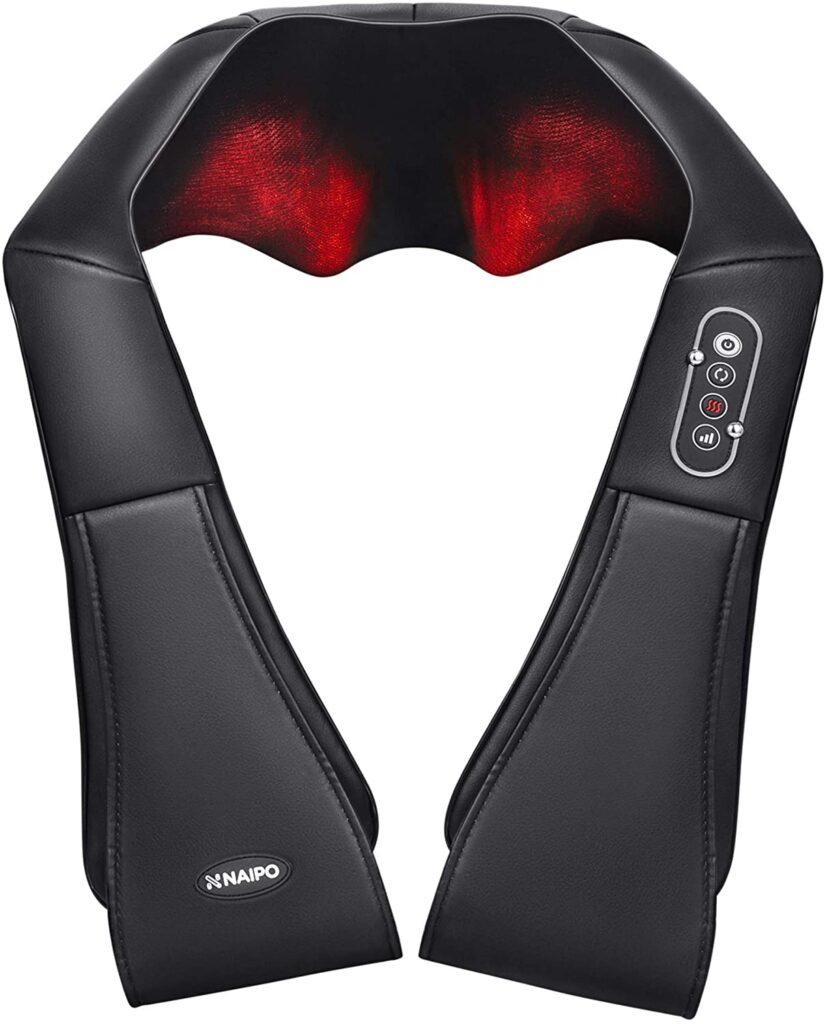 A heated massager may seem excessive, but it is one of the best gifts my SO has ever gotten me. I no longer need them for a warm massage. I can work out the muscles in my neck, back, shoulders and MORE at any time. I love using the Heat Deep Kneading Massage while I work at my desk. It reduces stress daily.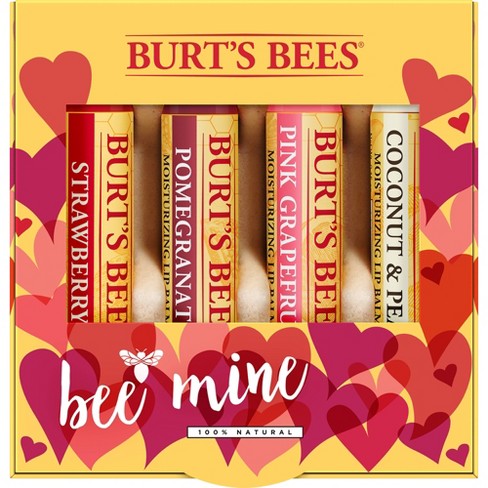 Winter is the worst for my lips. My lips seem to always feel dry in the cold months. I love Burt's Bees Lip Balm. I keep a tube in every area of our home. If you are not storing a lip balm + lotion on your desk, try it! I love being able to quickly treat my dry lips or skin while working. The seasonal Burt's Bees Gift Sets are the best value. I love stocking up each season.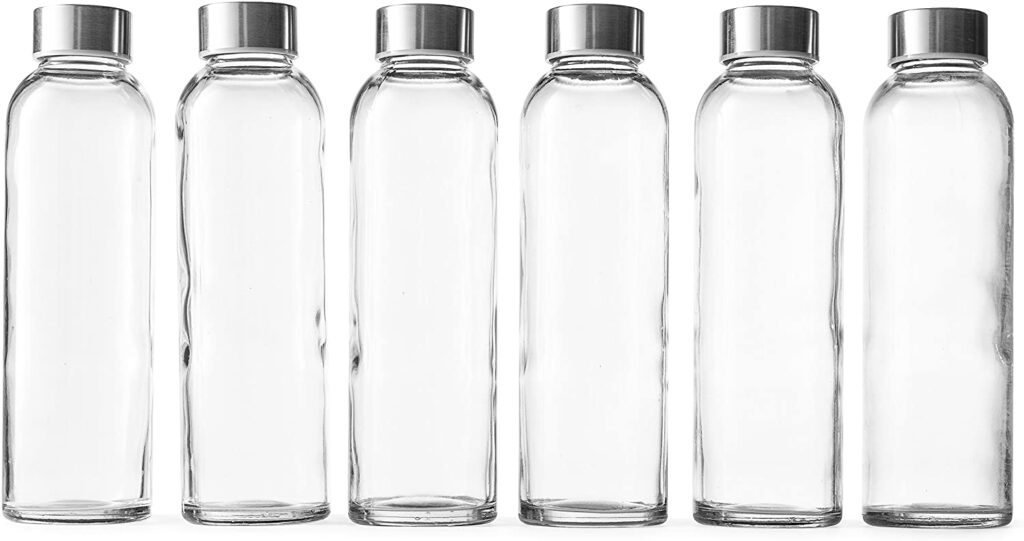 Everyone needs water each day. I've noticed my lips and skin are in a much healthier state when I drink enough water. These 18-Oz. Glass Beverage Bottles are perfect for daily use. I love the size and shape of them. They fit well into any bag. They look nice. They are easy to fill and clean. And most importantly, they help encourage me to drink plenty of water!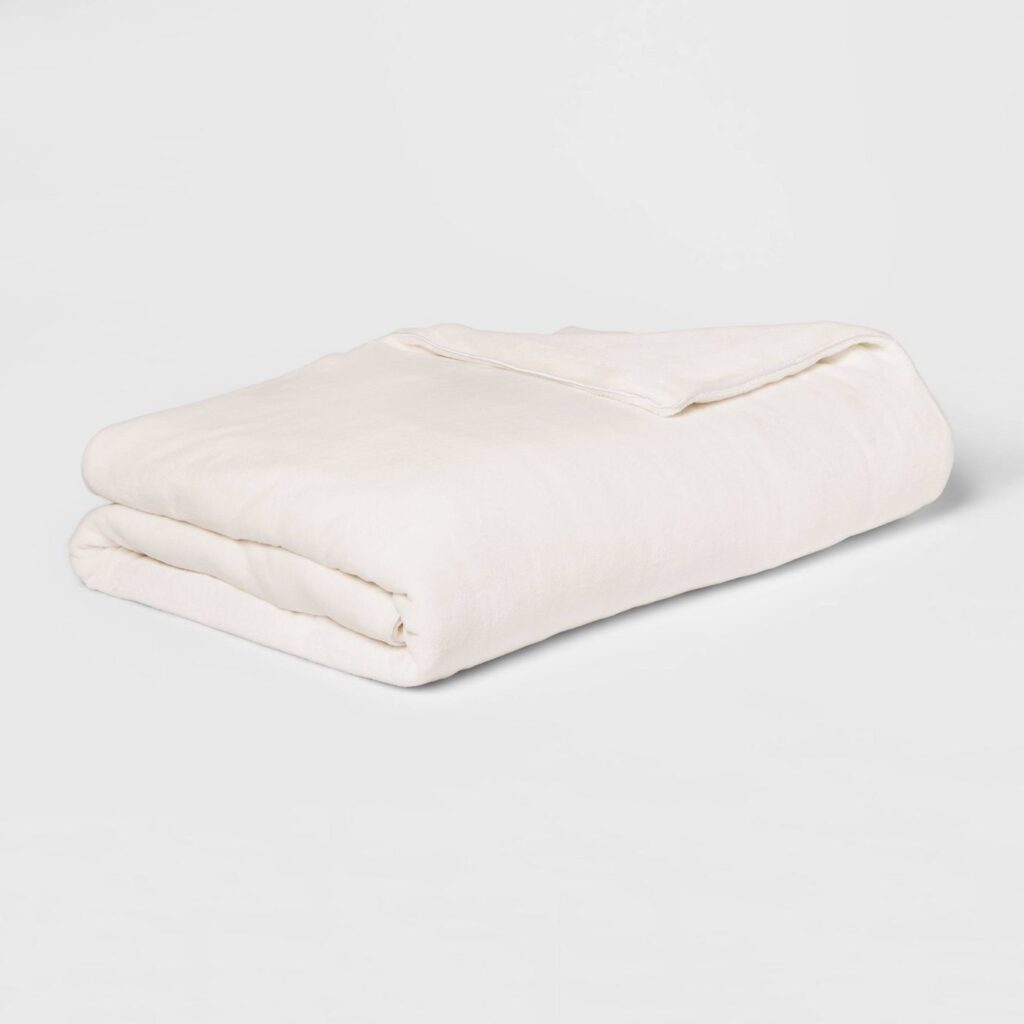 This weighted blanket has changed the way I sleep. I struggle with anxiety. I used to wake up multiple times throughout the night. I now sleep soundly with the Microplush Weighted Blanket. The 18lbs weight is perfect for me. I love the neutral ivory color. It's super soft and warm, yet still breathable. It even looks cute on our bed. I look forward to using it year round.
What is your must have winter product?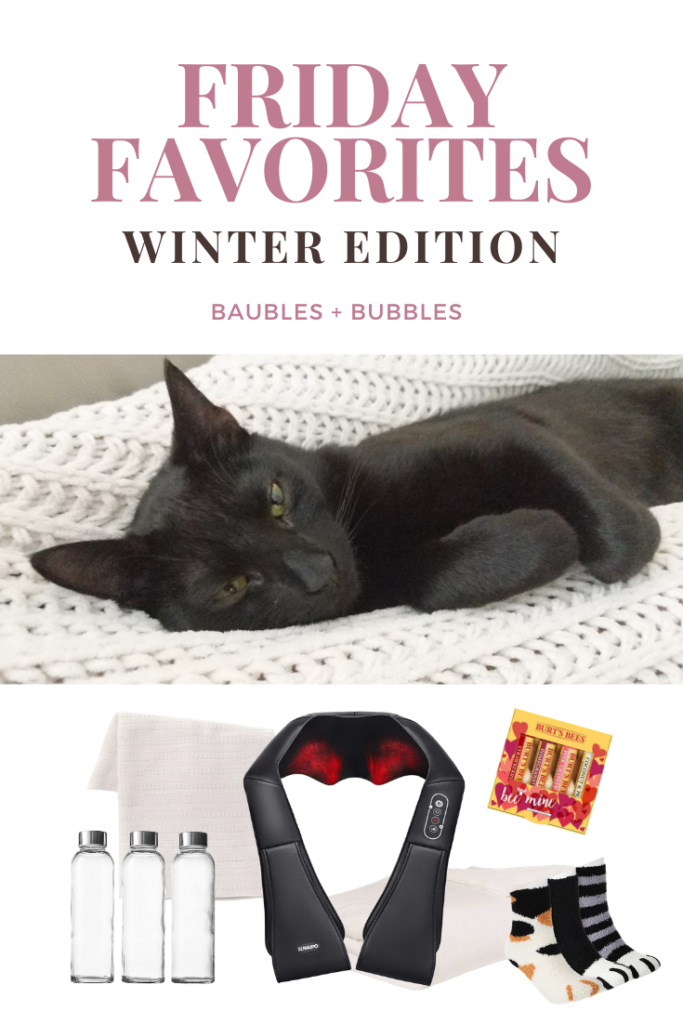 Xo, Madi
Archives
Calendar
November 2023
S
M
T
W
T
F
S
1
2
3
4
5
6
7
8
9
10
11
12
13
14
15
16
17
18
19
20
21
22
23
24
25
26
27
28
29
30