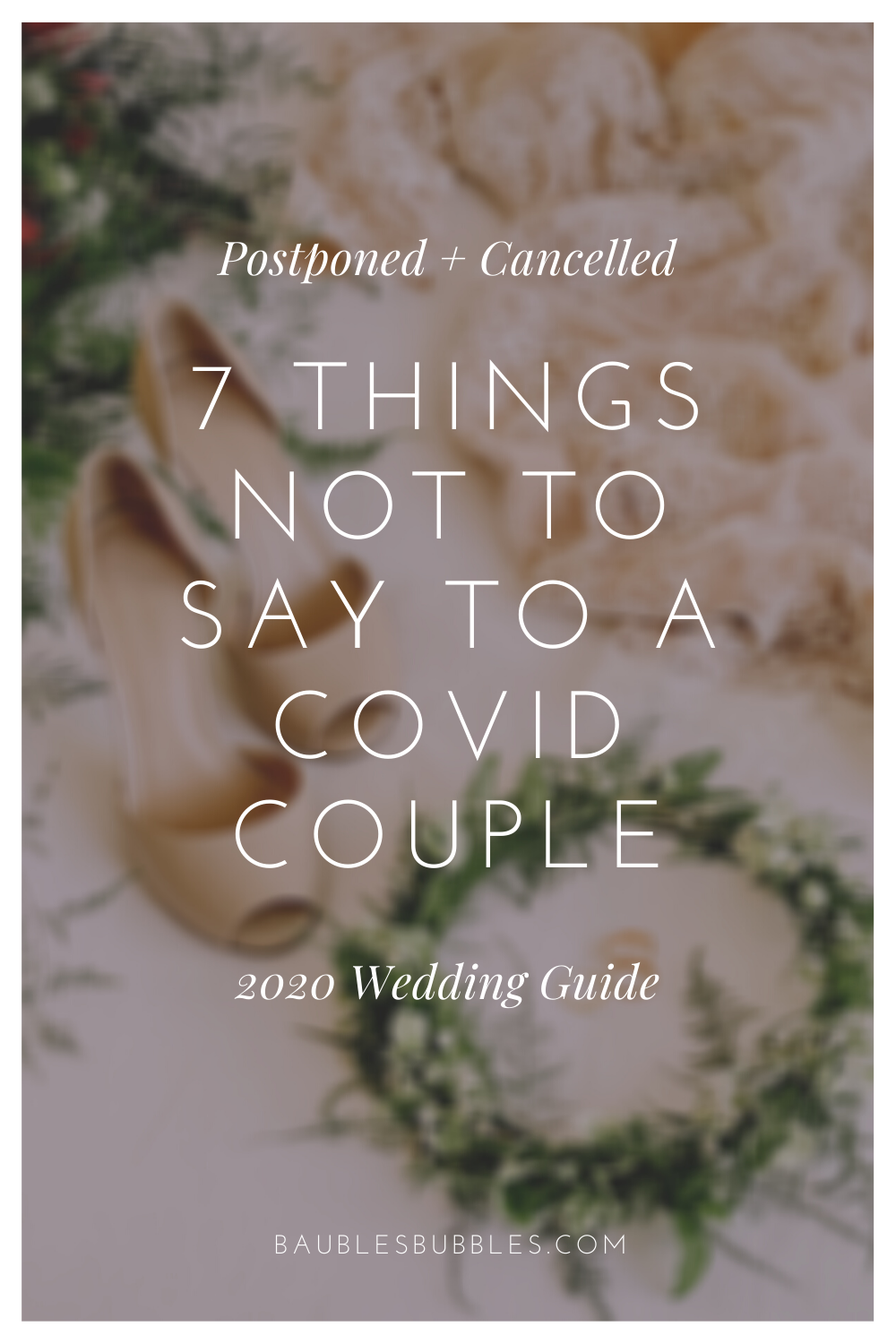 Bridal . Lifestyle . Uncategorized
7 Things Not to Say to a COVID Wedding Couple
On August 8, 2020 by baublesbubbles
2020 is not what we had planned for this year. The COVID-19 pandemic has changed our plans (and many others). One of the biggest and hardest changes we've had to make surround our wedding.
Due to COVID, the big white wedding we've always dreamed of has been cancelled. This decision was incredibly difficult, but also so simple. We are not willing to risk our loved ones health. However, that does not make it any less heartbreaking.
Seven Things You Should Not to Say to a COVID Wedding Couple
1 – The Marriage is More Important Than The Wedding
Yes, we know. We very much understand the weight of the marriage. We also shouldn't have to apologize or feel guilty for wanting the celebration of that marriage – the wedding.
2. No One Will Remember the Details in 10 Years
I don't care if this is accurate. Someone saying this has been married and already had their big day. You. Got. Your. Day. Don't tell me mine doesn't matter. You can't understand this situation unless you are impacted by it.
3. It Could Be Worse
Again, we know this. We can be thankful for the health and safety of our loved ones, and still sad about our wedding cancellation. 2020 has been a roller coaster of a year. It could be worse. It may get worse.
4. You Are Being Selfish
This one is the point that makes me the most angry. I have heard this commentary from lots of married people online. I understand it comes from a place of wanting to protect loved ones and community from the virus. That does not make it appropriate. No one talked openly about the couples that have selfishly asked loved ones to spend thousands of dollars on seemingly endless events, travel, outfits, activities, etc in the past. COVID Couples should not be held to a crazy standard. A wedding is a celebration of two people and their love. The couple should not be made to feel guilty for still wanting celebration during this time.
5. Details, Details, Details
We would love to give you details. We don't have them. Things change every single day during the pandemic. Be patient. We will share information with you as soon as it is available.
6. Anything Other Than "I'm Here for You"
It's hard to know what to say. This is a completely unprecedented time for all. Tradition and etiquette as we knew them are out the window. Be kind and if you can't think of what to say "I'm here for you." is always welcomed and appreciated.
7. NOTHING
The couple is going through one of the most impactful seasons of their life. COVID and the stay at home orders have already been incredibly isolating. Not acknowledging that the couples dream day has been ripped away from them by someone they can not control is hurtful.
If you are not a COVID couple, especially if you are already married, PLEASE STOP SHARING YOUR OPINION. It's not helpful or productive. This time is hard. Having a hundred outside sources sharing about something they do not understand only makes it harder.
Every COVID couple + their family has to make the best decision for them.
We have decided to proceed with wedding 2.0 on our original date. The 2.0 plan will include an intimate ceremony with only immediate family and private dinner to follow. We have been together for almost ten years. We don't want to wait any longer to exchange vows.
Check on your couples. Be kind. Be safe. Stay healthy. Start your happily ever after, even if it isn't the way you imagined.
XO, A Stressed & Tired 2020 COVID Bride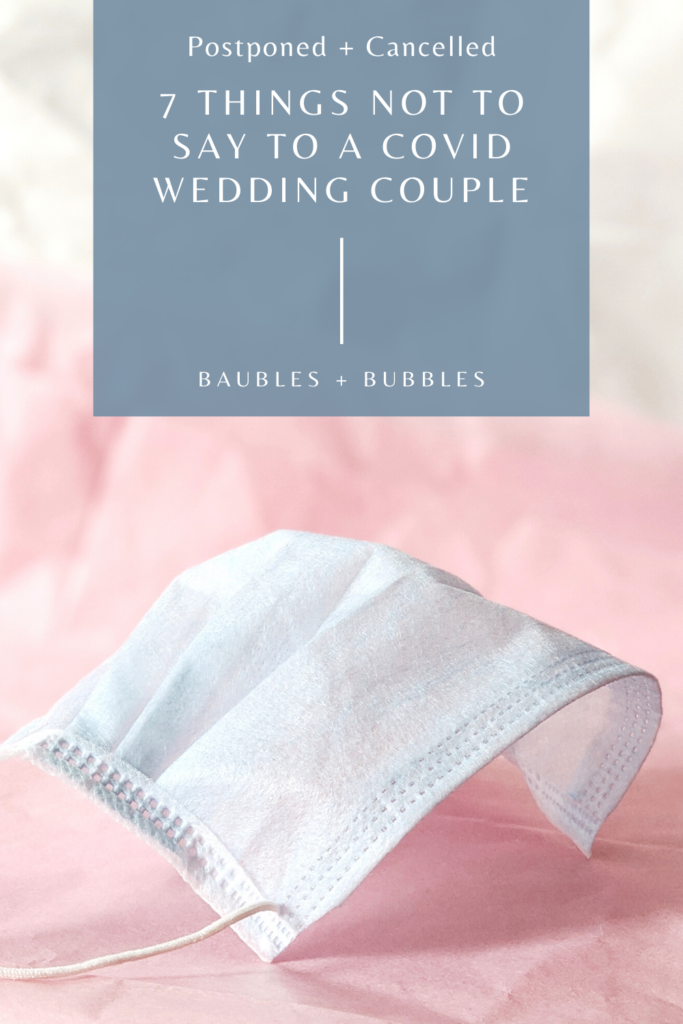 Archives
Calendar
November 2023
S
M
T
W
T
F
S
1
2
3
4
5
6
7
8
9
10
11
12
13
14
15
16
17
18
19
20
21
22
23
24
25
26
27
28
29
30